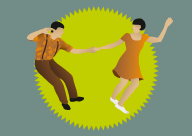 We are organising and hosting open (free) dance evenings (or Socials in Lindy Hop slang) in Graz, where we also offer to show some basics steps to all interested. Since 2014 we are also offering regular workshops on different levels.
As we want to give the dance more publicity, you can often find us dancing in public places, such as picknicks in the Stadtpark or to the tunes of swinging bands in the streets of Graz and other places in Styria – no matter if it's a local street party or just buskers!
Also, we do not want to leave out the rich history of the dance and the time when it came into being: From the roots of Jazz in New Orleans, the gender relations in the 1920s, the integrated ballrooms in New York up to the history of the Viennese swing kids of the 1940s – called "Schlurfs" – and their youthful subcultural resistance against the Nazi regime. For this purpose we regularly organise film screenings or discussions as part of our events.