Oct 19 – Oct 21, 2018
Graz, Austria
Lindy Hop & Collegiate Shag
International teachers
Musicality class with live music
2 parties with live acts
Registration opens on Aug 20, 2018
Teachers
Eglė Nemickaitė & Arnas Razgūnas (LIT)
In the Collegiate Shag as well as in the Lindy Hop track Egle & Arnas are gonna make the Hep Cats dance…
Coming straight from the heart of Lithuanian Swing Dance scene, partnered up from the very first dance Arnas & Eglė are dancing, performing, teaching and inspiring the community at hoppers' dance studio in Vilnius everyday. Passion and joy for Lindy Hop & Collegiate Shag gained their name as international instructors in regular small workshops around Europe, specially in Poland, where along with SWINGOUT.PL community they inspired Collegiate Shag scene in Warsaw and all over the country. Rich experience in teaching every day classes grants quality and fun with clear explanation of their material by expressing swing music and yourself in it. Arnas & Eglė are the organisers of the one and only Balboa & Shag festival in Lithuania – Swing Paradise.
Petra Robek & Janez Šepetavc (SLO)
Fast cat paws! Petra & Janez are gonna take care of that…
Petra started dancing swing in 2007 in Ljubljana. Soon she started going to international camps to further her knowledge about the dance and so she started teaching locally in 2009. She also has international experience, as she taught in Belgium, Hungary and Croatia. She has won and placed at several Jack and Jill competitions at different international swing events.
Janez met swing in 2008 and since the first moment it has become his passion. He started teaching at Studio Dansa, where he still teaches today. He is a social dancer by nature and his favourite award is the Social Dancer Award at Ljubljana Sweet Swing Festival. Petra and Janez became dance partners in 2014.
They are teaching weekly lindy hop classes in Slovenia and at international swing events. Together they won the strictly lindy competition at Sofia Swing Dance Festival 2016. They are also part of Retronom swing group. They are high energy dancers that like fast songs and social dancing.
Ada & Maria (AUT)
Ada and Maria are gonna make you sweat…
Maria and Ada are Vienna-based Lindy Hop and Collegiate Shag instructors who seek inspiration not only in other dance styles, but also in exploring the unknown. Fast dancing and expressive footwork are a must for these 2, so dancing Collegiate Shag was an obvious choice. While being local pioneers in role switches, they've also perfected dancing with multiple people at the same time in both styles. Their classes contain a strong focus on technique as well as creating a friendly environment for all participants. Besides teaching and performing regularly, they frequently travel to international dance events, to satisfy their love for social dancing and increase their knowledge of swing dancing.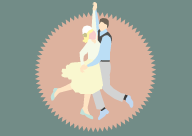 Schedule
Friday
Saturday
| Time | |
| --- | --- |
| 10:30-12:30 | Lindy Hop, both levels at Landessportzentrum |
| 14:00-16:00 | Lindy Hop, both levels at Landessportzentrum |
| 20:30-21:30 | Musicality class with live band at Volkshaus |
| 21:30- | Party at Volkshaus |
Sunday
| Time | |
| --- | --- |
| 11:30-13:30 | Collegiate Shag, both levels at JUFA Hotel |
| 15:00-17:00 | Collegiate Shag, both levels at JUFA Hotel |
Parties
Friday
Swing-Café special
Start: 20:00
Location TBA
Free admission!
DJ Sugarfoot Julie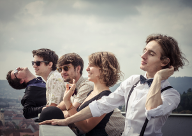 Saturday
All the Cats Join in: musicality class with the Coquette Jazz Band at 20:30
Start: 21:30
Volkshaus, Lagergasse 98a, 8020 Graz
Free admission!
Live: The Coquette Jazz Band/other Band TBA
Workshops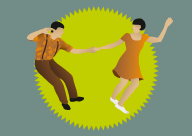 Workshop Levels
Lindy Hop Intermediate
Your feet start to twitch and move when you hear Swing music and you already made the first steps on the dance floor? In this level the basics will get a deeper focus to make the experience on the Social dancefloor even better. For this level you should be dancing Lindy Hop for at least half a year and participate in classes and workshops at regular intervals.
Lindy Hop Intermediate/Advanced-Advanced
Lindy Hop became a part of your life and the Socials are fixed dates in your calendar? On this level, moves are becoming more challenging, variations and musciality are only waiting to be discovered! This level is just right for all Swing-oholics, who regularly participate in international festivals and still want more. For this level you should be dancing Lindy Hop for at least 2 years and participate in classes and workshops at regular intervals.
Collegiate Shag Intermediate
Prerequisite is the attendance of Collegiate Shag beginner and improver workshops, solid knowledge of the basic step and some of its variations, side-by-side and open positions as well as turns.
Collegiate Shag Intermediate/Advanced-Advanced
Collegiate Shag is one of your favourite dances! You feel very comfortable on the social dance floor and have a good repertoire of moves. In this workshop you will learn new variations and widen your knowledgle and improve your technique. For this level you should have been taking Collegiate Shag-classes and practiced the dance regularly for at least 1,5 years.
Registration and prices
Lindy Hop on Saturday (4 hrs), Oct 20: EUR 35
Collegiate Shag on Sunday (4 hrs), Oct 21: EUR 35
Free admission to parties
Registration opens on Aug 20, 2018
Locations
Saturday, workshops:
Landessportzentrum, Jahngasse 1-3, 8010 Graz.

Saturday, musicality class and party:
Volkshaus, Lagergasse 98a, 8020 Graz.

Sunday, workshops:
JUFA Hotel Graz City, Idlhofgasse 74, 8020 Graz.