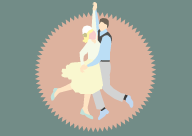 Spring Workshop Weekend 2023 – Registration
21. & 22. & 23.April 2023
Trainers:
Ana & Samu & Lotte
Workshops
Lindy Hop: Intermediate, Intermediate/Advanced & Invitational Level
Collegiate Shag: Easy, Hard, Initational Level
(Level descriptions please see below)
Attention, due to some technological challenges, each class needs to be booked separately.
Registering for Lindy Hop with a partner requires both participiants to sign up for the same level and to fill out their own registration forms. Registering as a couple will only be complete once both partners have registered.
We want to ensure a good Lead – Follow balance, so we treat registrations with a partner with a higher priority. We also reserve the right to install a waiting list if there are too many applications for one role in one level.
Please fill out the registration form below completely.