Jun 23, 2018
Graz, Austria
2 levels of Balboa
Trainers: Anna & Ines (GER), Danijela & Grega (SLO)
Party with live band
Register using our form
Teachers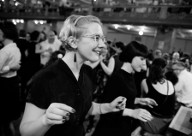 Anna Porzelt & Ines Colmorgen (GER)
Anna started her dancing career as a teenager in the rather stuffy Formation- and Pairtournaments for Ballroom and Latin. This does not swing too much, however now she still knew how to walz or foxtrot before she discovered the swing dance scene 2008 in Paris. To this day these experiences enrich her repertoire because Anna loves mixing up all the dances: Lindy, Balboa, 20s Charleston, Shag, Peabody, One & Two Step. Or whatever the music asks of her.
Since 2010 Anna has been teaching with Brave New Swing in Berlin – among others also with Ines, who is accompanying her to Graz. Her biggest desire is to get Followers to dance, instead of just following. In their courses, everyone learns how to lead and to follow from the very beginning.
Additionally, Anna organizes Parties and the occasional workshop including the Balboa and Swing Castle Camp. Known as Professor Shorthair she is only playing the music, which would make her dance and she is also playing washboard in her Band 'Die Abrissbirnen'.
Anna loves leading as much as she loves following because she has her own mind and this can be seen while watching her feet…
Danijela Capuder & Grega Bohinc (SLO)
Grega Bohnic started to swing dance in 2008 and briefly after founded "The Swingbrats Maribor". Danijela Capuder, who is also a member of the Swingbrats, started dancing in 2012 and soon after began teaching together with Grega.
Danijela and Grega passionately love teaching both Lindy Hop and Balboa. They focus a lot on dance pedagogy as they believe every person can dance if they find the right approach. Their teaching goal is to teach the dance as clearly as possible and let the learners practice as much as they can. Of course, this happens with a lot of humor and they are doing their very best to bring joy into dancing.
Schedule
| Time | |
| --- | --- |
| 10:30-12:30 | Class, both levels |
| 12:30-14:00 | Lunch break |
| 14:00-16:00 | Class, both levels |
| 20:00 - | Party with The Coquette Jazz Band |
Party
Start: 20:00
Postgarage Café, Dreihackengasse 42, 8020 Graz
Free admission!
Live: The Coquette Jazz Band
DJ ango2go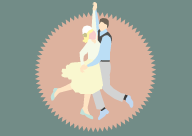 Workshop Levels
Easy
This workshop is for Balboa dancers who know the basic quite well. You should have at least participated in a Beginner and Improver Workshop with The Lindy Cats or a similar equivalent workshop. Required is knowing the basic moves of Pure-Bal and Bal-Swing (Up & Down Step, Come Around, Throw Out and ad-libs) and a good feeling for faster rhythms.
Hard
This workshop is for Balboa dancers who know the basics really well and are experimenting with variations. You should have at least one and a half years of Balboa dance experience and visited Intermediate-Workshops with The Lindy Cats or an equivalent workshop. Required is having solid knowledge of basic moves (Come Around, Throw Out, Out-And-Ins, ad-libs, lollies, swivels, etc.), their technique how to vary them and a good feeling for fast rhythm.
Registration and prices
Level Easy (4 hrs): EUR 25
Level Hard (4 hrs): EUR 25
Free admission to the party
Locations
Workshops:
Landessportzentrum, Jahngasse 1-3, 8010 Graz;
Public transport: lines 4, 5 to Keplerstraße or lines 41, 58, 63 to Grabenstraße

Party:
Postgarage Café, Dreihackengasse 42, 8020 Graz;
Public transport: lines 31, 32, 33 to Lissagasse; line 50 to Gürtelturmplatz