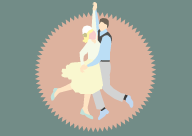 At the LCF, you can either sign up for a suitable level of Lindy Hop or for the Solo Jazz track.
Registering for Lindy Hop with a partner requires both participiants to sign up for the same level or track and to fill out their own registration forms. Registering as a couple will only be complete once both partners have registered during all stages of the registration period (Early Cat / Wise Cat / Lazy Cat).
Registering for Lindy Hop without a partner is only possible beginning with the Wise Cat phase, starting on the April 21, 2019 until registrations are closed. We want to ensure a good Lead – Follow balance, so we treat registrations with a partner with a higher priority. We also reserve the right to install a waiting list if there are too many applications for one role in one level.
Attention: All workshops are sold out!
Derzeit gibt es keine Workshops zum Anmelden. | Currently we have no workshops open for registration.