20. – 22. Octber 2023


Graz, Austria
THANK YOU ALL FOR MAKING THIS EVENT HAPPENING!

special thanks to
Grega Bohinc
for the great photos!
Retrospective of the Welcome Party
…and bring the joy into your living room with a few photos from Saturday's party
no images were found
Over far too quickly, we dance towards the end at the Farewell Party
no images were found
no images were found
Lindy Cats Competition
… we like to encourage you to try something different, so here is our challenge for you…
While other festivals celebrate the friendly but fierce competitive spirit that propels dancers to new heights, we Lindy Cats celebrate the community spirit of the Lindy scenes worldwide. There will be no regular competitions like Mix'n'Match at the festival but we like to encourage you to try something different. One of the ideas we love is dancing the authentic jazz dances like Lindy, Bal, Shag, Solo Jazz, etc. in public, so here is our challenge for you:
Starting from 01.10.2023 and ending on Saturday, 21.10.2023 at 5 pm, we encourage you to film yourself dancing in a public place either in your hometown, in Graz or on the way to Graz, before or during the festival.
The song you should dance to is any version of….it couldn't be different… « All the Cats join in »
Once you filmed it, all you need to do is upload on the
Lindy Cats Festival Event page
on Facebook and tag yourself and all the dancers in it. You can also tag the
Lindy Cats Instagram-Page.
There will be great prices for the three winning teams. Each team will receive two tickets for amazing partner festivals or the next Lindy Cats Workshop-Weekend.
One video will win by the largest numbers of likes and other reactions, the others will be selected by our festival teachers. Keep in mind that the video should embrace the Lindy Hop values and the idea of dancing in public. So the more crowded the place, the better.
Teachers
Diana Geisler (AT) & Andrew Hsi (AUS/LIT)
Creative cats watch out… Diana & Andrew are in the house!
Diana lives and teaches Lindy Hop in her home town Vienna. A social dancer at heart, she focuses on the idea of energetic social dancing with solid partner connection and a playful approach to musicality. As a teacher, she hopes to inspire others by suggesting a wholesome approach to why this dance can be so much more than just steps. Andrew, born in Australia, raised in China and educated in the USA, is a proud member of the Brothers & Sisters in Rhythm an international crew of dancers, loves social dancing more than anything else, as a dancer he is known for his at times crazy energy on the floor, and as a teacher he loves discovering and sharing fun steps with everyone.
Eglė Nemickaitė & Arnas Razgūnas (LIT)
In the Lindy Hop track Egle & Arnas are gonna make the Hep Cats dance…
Coming straight from the heart of Lithuanian Swing Dance scene, partnered up from the very first dance Arnas & Eglė are dancing, performing, teaching and inspiring the community at hoppers' dance studio in Vilnius everyday. Passion and joy for Lindy Hop & Collegiate Shag gained their name as international instructors around Europe, specially in Poland, where along with SWINGOUT.PL community they inspired Collegiate Shag scene in Warsaw and all over the country. Rich experience in teaching every day classes grants quality and fun with clear explanation of their material by expressing swing music and yourself in it. Arnas & Eglė are the organisers of the one and only Balboa & Shag festival in Lithuania – Swing Paradise.
Petra Starman & Janez Šepetavc (SLO)
Fast cat paws! Petra & Janez are gonna take care of that…
Petra started dancing swing in 2007 in Ljubljana. Soon she started going to international camps to further her knowledge about the dance and so she started teaching locally in 2009. She also has international experience, as she taught in Belgium, Hungary and Croatia. She has won and placed at several Jack and Jill competitions at different international swing events.
Janez met swing in 2008 and since the first moment it has become his passion. He started teaching at Studio Dansa, where he still teaches today. He is a social dancer by nature and his favourite award is the Social Dancer Award at Ljubljana Sweet Swing Festival. Petra and Janez became dance partners in 2014.
They are teaching weekly lindy hop classes in Slovenia and at international swing events. Together they won the strictly lindy competition at Sofia Swing Dance Festival 2016. They are also part of Retronom swing group. They are high energy dancers that like fast songs and social dancing.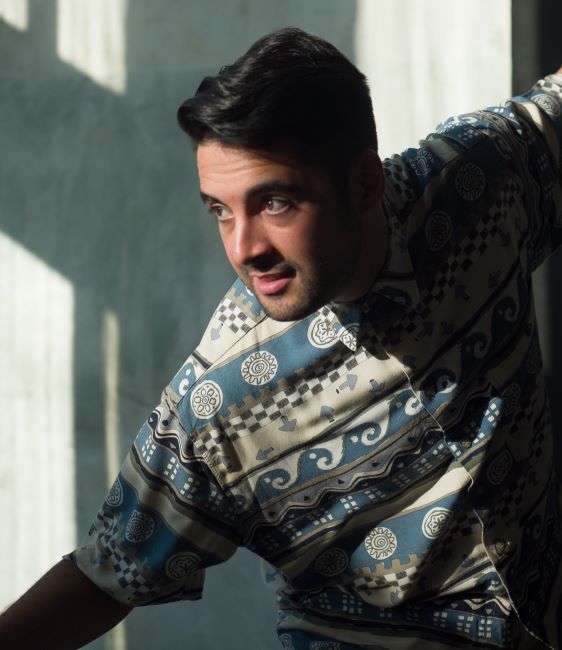 Ana Maeso Arana (ESP/GER) & Alberto Meucci (IT/PL)
… creating an dance environment of growth and fun Ana & Alberto come along…
Originally from Spain, Ana Maeso run her own dance school in Berlin (Rayuela Swing) and have been teaching and dancing and competing internatiollaly in lindy hop, blues and authentic jazz around the world. Ana's main values are respect for the history of the music and the dance, connection and communication amongst dancers, and self-expression. In her classes, Ana strive for personal feedback, material that can be used way beyond the hours shared in the classroom, and creating an environment where fun, growth and vulnerability can co-exist.
Born in Italy, Alberto Meucci discovered Swing dance in 2015, and he hasn't stopped since. Shortly after beginning his dance journey, Alberto started traveling to various festivals across Europe, where he learned from different artists and participated in competitions. Following a couple of residencies in Budapest and Vilnius, he has now made Warsaw, Poland, his home/dance base, teaching at the dance school ShimSham.pl. While he still enjoys competing and 'throwing down' on the dance floor, his favorite moments are undoubtedly spent social dancing. Alberto finds inspiration in every lindyhopper he meets, as each encounter on the dance floor brings something new. Dancing fuels his energy and curiosity, driving him to continually explore the history and culture of the dance. His pockets are filled with rhythmic variations and…jokes 😉
They'll be teaching Lindy Hop as well as the Authentic Jazz classes at the festival.