Oct 18 – 20 2019
Graz, Austria
Lindy Hop on 3 levels plus Solo Jazz track
International teachers
Workshops on Saturday & Sunday (7 hrs per level)
3 parties with live acts – Party-passes are included for workshop participants!
Registration for party passes is open!
Attention: all workshops are sold out!
Teachers
Diana Geisler & Andrew Hsi
Creative cats watch out… Diana & Andrew are in the house!
Diana lives and teaches Lindy Hop in her home town Vienna. A social dancer at heart, she focuses on the idea of energetic social dancing with solid partner connection and a playful approach to musicality. As a teacher, she hopes to inspire others by suggesting a wholesome approach to why this dance can be so much more than just steps. Andrew, born in Australia, raised in China and educated in the USA, is a proud member of the Brothers & Sisters in Rhythm an international crew of dancers, loves social dancing more than anything else, as a dancer he is known for his at times crazy energy on the floor, and as a teacher he loves discovering and sharing fun steps with everyone.
Elle Brenecki & Peter Kepič
Passion for jazz music and fun classes? Elle & Peter are gonna bring both to you…
Elle discovered Lindy Hop and swing music in her hometown of Adelaide, Australia. Her classes truly display her passion and joy for the dance. She is always looking for new shapes and rhythms to inspire and communicate with her partner. Elle encourages creativity and the freedom of expression within the dance and believes that Lindy Hop is a conversation between two people and the music. Peter, a passionate Jazz fan, discovered Swing dances with his partner Pavlina. Together, they founded Swing Wings Brno. Teaching all forms of Swing & Jazz Dances, solo & partnered, he values mostly the music, history and passion for this music. So if you hear really good jazz music rockin' it, you can almost always see Peter jumping around.
Michaela Delmonte & Benjamin Cook
Michaela & Ben are gonna bring some awesome goodies for the hep cats!
Michaela started swing dancing in 2011 and has not looked back since. Her love of swing dancing lies in the partnering, the creativity and the constant adventure that the dance offers. Through delving into the music and dance history, refining movements and exploring different ideas with different partners, she finds the journey of developing a greater understanding of swing dancing utterly compelling. Benjamin, originally from Melbourne, Australia, has taught all around Europe for the last 8 years. His ability to break down moves and ideas into manageable pieces, and attention to detail has earned him a reputation as one of the UK's most prominent instructors. His number one goal is always to show dancers the ways to exceed their own expectations without straying from having fun.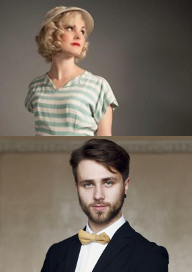 Jenna Applegarth & Arnas Jasiūnas
Thirsty for inspiration? Jenna & Arnas have plenty o fit for you…
Jenna aims to create with her energy and passion the perfect environment for learning, with challenging yet applicable lessons. Jenna has attended, coordinated, and taught various workshops and exchanges all across the globe. With over 10 years of teaching/coaching experience, she loves finding new ways to connect with other dancers on the floor and in the classroom. Arnas comes from the thriving Lithuanian Lindy Hop scene, dancing since 2006. Arnas ideas are based on concepts of body movement, rhythms and authenticity of both the dance and the dancer. With his dance technique and teaching methods in the background Arnas turns the classroom into an effective workshop and gives students ideas for future training.
Schedule
Friday at Volkshaus
| Time | |
| --- | --- |
| 19:15-22:00 | Registration at the Grand Foyer |
| 20:00-21:00 | Taster 1: all levels |
| 21:00 | Party |
Saturday at Volkshaus
Time
Int
Int/Adv
Adv
Solo
10:00-12:50
Registration
10:30-11:30
Class
Class
11:40-12:40
Class
Class
Class
12:50-13:50
Class
Class
14:00-15:00
Class
Class
15:10-16:10
Class
Class
Class
16:20-17:20
Class
Class
Class
17:30-18:30
Taster 2: all levels
Taster 3: all levels
21:30
Party
Sunday at Volkshaus
Time
Int
Int/Adv
Adv
Solo
11:40-12:40
Class
Class
Class
12:50-13:50
Class
Class
Class
14:00-15:00
Class
Class
15:10-16:10
Class
Class
Class
16:20-17:20
Class
Class
19:30-21:30
Taster 4: all levels
20:00
Party
Parties
While admission to all parties is free, space is limited due to the venue's policy. Therefore, if you wish to join up ONLY for the parties, you need to register for a free party pass to secure yourself access! All you have to do is to register. People who registered for a party pass are asked to collect the ticket at the venue before 22:00 on the first night they are registered for. So, if you take a multi-day partypass, you need to collect it only on the first night you registered for. Tickets which are not collected before 22:00 will be made available to last minute registrations at the door. NOTE: Dancers who participate in the workshops DO NOT need a party pass, their access to the parties is possible all night!
FRIDAY
Start 21:00
Volkshaus, Lagergasse 98a, 8020 Graz
Free admission but limited space!
DJs TBA
Live: Swingwagon (AUT)
SATURDAY
Start: 21:00
Volkshaus, Lagergasse 98a, 8020 Graz
Free admission but limited space!
DJs TBA
Live: The Coquette Jazz Band (AUT)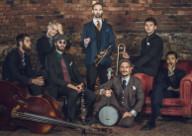 SUNDAY
Start: 21:00
Volkshaus, Lagergasse 98a, 8020 Graz
Free admission but limited space!
DJs TBA
Live: Prohibition Stompers (AUT)
Workshops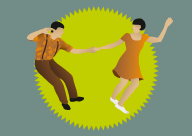 3 Lindy Hop Levels
Intermediate
Your feet start to twitch and move when you hear Swing music and you already made the first steps on the dance floor? In this level the basics will get a deeper focus to make the experience on the Social dancefloor even better. For this level you should be dancing Lindy Hop for at least half a year.
Intermediate/Advanced
Lindy Hop became a part of your life and the Socials are fixed dates in your calendar? On this level, moves are becoming more challenging, variations and musciality are only waiting to be discovered! For this level you should be dancing Lindy Hop for at least 2 years.
Advanced
This level is just right for all Swing-oholics, who regularly participate in international festivals and still want more. Complex moves and a fast learning tempo are characteristic for this level… it's gonna be crazy! For this level you should be dancing Lindy Hop for at least 3 years.
Solo Jazz Track
You have taken Solo Jazz classes or workshops before and know some classic routines. You already know the fundamental solo jazz steps and want to challenge yourself even more? This is the perfect track for you!
Registration and prices
Registration opens on March 20, 2019 at 18:00 CET.
Prices for 7 hrs of workshops:
Early Cat (couples only, March 20 – May 21): EUR 115
Wise Cat (May 22 – August 21): EUR 125
Lazy Cat (August 22 – October 4): EUR 135
Optional lunch: EUR 9
Free admission to parties. Please register for guaranteed entry.
Registering for Lindy Hop with a partner requires both participiants to sign up for the same level and track and to fill out their own registration forms.
All workshops are sold out!
Location
Volkshaus, Lagergasse 98a, 8020 Graz;
Public transport: line 5 to Karlauergürtel; lines 39, 67 to Karlauplatz.
Parking: the location is in the 'green' short-stay parking zone.

Contact
The Lindy Cats
thelindycats@gmx.net

Bank details:
Owner: The Lindy Cats
IBAN: AT78 6000 0803 1016 6913
BIC: