20. – 22. Octber 2023


Graz, Austria

Teachers

Egle & Arnas, Diana & Andrew, Petra & Janez, Ana & Samu

3 Parties

live: Coquette Jazz Band & Tin Canned Swing & Swingwagon

Registration

Lindy Hop
Early Cats from may 22nd till july 22nd 130€
Sleepy Cats from july 23rd on 160€

Invitational Level
Early Cats from may 22nd till july 22nd 110€
Sleepy Cats from july 23rd on 130€

Solo Jazz Track (extra or additional bookable) 60€

Please note: The Lindy Hop Intermediate/Advanced, Advanced and Invitational levels as well as the Solo Jazz Track are fully booked. Registration is only possible on the waiting list.

Register here





Lunch
You can book lunch for the two workshop days when you register. Please note that the lunch consists of a vegetarian wrap, a salad and a dessert.
Price: 15 €
Please note that booking lunch later or at the festival on site this is unfortunately not possible. If you need a vegan, gluten-free or other special lunch, please contact us at registration@thelindycats.at and we will clarify individually if we can realize your wish.




Teachers
Diana Geisler (AT) & Andrew Hsi (AUS/LIT)
Creative cats watch out… Diana & Andrew are in the house!
Diana lives and teaches Lindy Hop in her home town Vienna. A social dancer at heart, she focuses on the idea of energetic social dancing with solid partner connection and a playful approach to musicality. As a teacher, she hopes to inspire others by suggesting a wholesome approach to why this dance can be so much more than just steps. Andrew, born in Australia, raised in China and educated in the USA, is a proud member of the Brothers & Sisters in Rhythm an international crew of dancers, loves social dancing more than anything else, as a dancer he is known for his at times crazy energy on the floor, and as a teacher he loves discovering and sharing fun steps with everyone.
Eglė Nemickaitė & Arnas Razgūnas (LIT)
In the Lindy Hop track Egle & Arnas are gonna make the Hep Cats dance…
Coming straight from the heart of Lithuanian Swing Dance scene, partnered up from the very first dance Arnas & Eglė are dancing, performing, teaching and inspiring the community at hoppers' dance studio in Vilnius everyday. Passion and joy for Lindy Hop & Collegiate Shag gained their name as international instructors around Europe, specially in Poland, where along with SWINGOUT.PL community they inspired Collegiate Shag scene in Warsaw and all over the country. Rich experience in teaching every day classes grants quality and fun with clear explanation of their material by expressing swing music and yourself in it. Arnas & Eglė are the organisers of the one and only Balboa & Shag festival in Lithuania – Swing Paradise.
Petra Starman & Janez Šepetavc (SLO)
Fast cat paws! Petra & Janez are gonna take care of that…
Petra started dancing swing in 2007 in Ljubljana. Soon she started going to international camps to further her knowledge about the dance and so she started teaching locally in 2009. She also has international experience, as she taught in Belgium, Hungary and Croatia. She has won and placed at several Jack and Jill competitions at different international swing events.
Janez met swing in 2008 and since the first moment it has become his passion. He started teaching at Studio Dansa, where he still teaches today. He is a social dancer by nature and his favourite award is the Social Dancer Award at Ljubljana Sweet Swing Festival. Petra and Janez became dance partners in 2014.
They are teaching weekly lindy hop classes in Slovenia and at international swing events. Together they won the strictly lindy competition at Sofia Swing Dance Festival 2016. They are also part of Retronom swing group. They are high energy dancers that like fast songs and social dancing.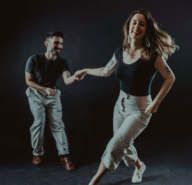 Ana Maeso Arana & Samuel Gaudó Bellarre (ESP/GER)
… creating an dance environment of growth and fun Ana & Samu come along…
Originally from Spain, Ana Maeso and Samuel Gaudó Belarre run their own dance school in Berlin (Rayuela Swing) and have been teaching and dancing together for over 4 years. Independently they have competed in lindy hop, shag, blues and authentic jazz around the world, and are active teachers outside of Germany. Their main values are respect for the history of the music and the dance, connection and communication amongst dancers, and self-expression. In their classes, they strive for personal feedback, material that can be used way beyond the hours shared in the classroom, and creating an environment where fun, growth and vulnerability can co-exist. They'll be teaching Lindy Hop as well as the Authentic Jazz classes at the festival.