Current Workshops
The Lindy Hop and Balboa Improver and Shag Beginner series will start again in February 2020, registration starts at 20th January.
There will be a Balboa weekend workshop serie for Beginners and Intermediates, registration starts at 24th January
In the unlikely event of problems with registration, please contact registrierung@thelindycats.at.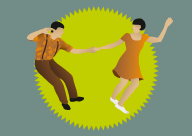 Lindy Hop
Lindy Hop is nowadays the most well known and most wide-spread among the swing dances which are experiencing a comeback since the end of the 20th century. Created in Harlem, New York, in the Roaring 20s, it soon became due to legendary performance groups such as "Whitey's Lindy Hoppers" the most famous dance of the Swing era.
Building up on its own technique, the dance allows a lot of room for improvisation and interpretation of the music it is being danced to. Thus, every dancer can bring her/his own style into the dance and develop it with their dance partners.
We offer regular Lindy Hop workshops in six levels. Here is a playlist with songs especially suitable for beginners.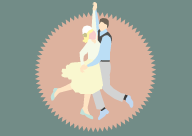 Collegiate Shag
Like the Lindy Hop, Shag has its roots in the 1920s and 1930s, particularly favoured and wide-spread among College Kids – hence the name.
"…Collegiate Shag exudes youthful exuberance. Its bouncy hops and purposefully gawky, whimsical style give it a fun-filled flair." Tamara Stevens "Swing Dancing", 2011, p. 120
A little bit of history… from swing dance historian Peter Loggins. Here is a playlist with songs especially suitable for beginners.
Balboa
Balboa was created in the 1920ies, concurrently with Charleston and Lindy Hop. The dance is characterized by the close dance pose, and the dance experience is originates from subtle weight changes and playful footwork. It is danced primarily to fast music and due to its space-efficient nature it is well suited on crowded floors. Through combination with moves from Charleston and Lindy Hop, Balboa is transformed into Bal-Swing. Watch this video if you want to learn about Balboa's history. Here is a playlist with songs especially suitable for beginners.
Charleston
The "iconic" dance of the 1920s, the Charleston still enjoys great fame for its kick steps, crazy knees and other "wild" moves. You can dance it both solo and in pairs, it is rather well suited for fast music.
Solo Charleston is usually being thaught in choreographies but the different steps are very useful, if you don't have a partner at hand or wish to dance alone.
Aerials
Lindy Hop is – like its successors – known for its acrobatics performance moves which let the dancers sail through the air and then hit the ground dancing. No big Lindy Hop performance can happen without one. These moves called Aerials or Air Steps need a lot of training, technique and trust, even the "simple" ones. Thus, we are sometimes offering specialised workshops for this aspect of Swing dancing.