ALL THE CATS JOIN IN – Fall Workshop-Weekend 2022
07.-09. October 2021
2 levels of Lindy Hop: Intermediate, Intermediate/Advanced + additionally Authentik Jazz Track

Trainers:
Diana & Guillaume, Ana & Samu, Petra & Janez

More Infos you find here,
go directly to the registration here!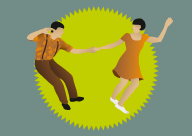 Lindy Hop workshop series incl. beginner class starts on 19.September
Levels: Improver, Intermediate und Intermediate/Advanced
Dates: 19.9./26.9./3.10./10.10./17.10./24.10.2022
6 classes a 75 minutes
Time: Beginner: 6 – 7:15 pm
Intermediates: 6:15 – 7:30 pm
Intermediate/Advanced: 6:00 – 7:15 pm
Fees: 50,- € Contribution to expenses + 10,- € membership (to be paid once) – please indicate credit from March 2020 when registering
Venue: BRG Kepler, Keplerstraße 1

Please register using this dedicated registration form.
Authentic Blues Workshop mit Sabina & Miha
22.October 2022
2 Levels: Beginner: 10:00 – 12:00 am
Improver: 12:30 – 14:30 pm
Venue: tba
Price: 15,-€ + 10,- € membership (to be paid once)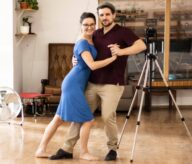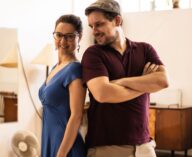 Trainers: Miha and Sabina are blues/lindy hop dancers from Ljubljana. Their passion for blues dance is connecting them for last 3 years in dancing and sharing this creative dance with dancers in Ljubljana, Trieste and around.
Sabina Blumauer is dancing lindy hop since 2006, the early start of this scene in Slovenia. She is mainly focusing on blues for the last years. Her specific is expression through elegance and femininity, her profession form good posture (Gokhale method teacher) is giving her additional range of movement knowledge that is passed on her students. She loves dancing with Miha, it is light and joyful communication, which is creating good vibes and learning environment for students.
Miha Žabkar has been dancing blues and swing since 2015. He fell in love with the musicality of blues dancing, the expression and the connection between the two dancers. His main focus is the technical aspect of the lead-follow dynamic and how the correct technique makes the dance comfortable, relaxing and fun. He sees the dance as a language where and the technique as grammar. If you know your grammar you can create poetry.
in the evening: Party, Venue: tba
More info to follow, registration starts Sept 15.
The number of places is limited. If smaller groups than expected are allowed, first come, first served.
We will also change partners in the workshop, in small groups of a maximum of 6 people.
Please continue to be considerate of all fellow dancers and only come to our workshops and socials only healthy and tested, even if we will no longer check the tests from now on.
Find our Corona Präventionskonzept here
In the unlikely event of problems with registration, please contact registrierung@thelindycats.at.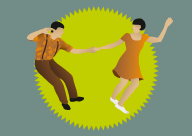 Lindy Hop
Lindy Hop is nowadays the most well known and most wide-spread among the swing dances which are experiencing a comeback since the end of the 20th century. Created in Harlem, New York, in the Roaring 20s, it soon became due to legendary performance groups such as "Whitey's Lindy Hoppers" the most famous dance of the Swing era.
Building up on its own technique, the dance allows a lot of room for improvisation and interpretation of the music it is being danced to. Thus, every dancer can bring her/his own style into the dance and develop it with their dance partners.
We offer regular Lindy Hop workshops in six levels. Here is a playlist with songs especially suitable for beginners.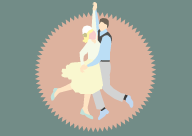 Collegiate Shag
Like the Lindy Hop, Shag has its roots in the 1920s and 1930s, particularly favoured and wide-spread among College Kids – hence the name.
"…Collegiate Shag exudes youthful exuberance. Its bouncy hops and purposefully gawky, whimsical style give it a fun-filled flair." Tamara Stevens "Swing Dancing", 2011, p. 120
A little bit of history… from swing dance historian Peter Loggins. Here is a playlist with songs especially suitable for beginners.
Balboa
Balboa was created in the 1920ies, concurrently with Charleston and Lindy Hop. The dance is characterized by the close dance pose, and the dance experience is originates from subtle weight changes and playful footwork. It is danced primarily to fast music and due to its space-efficient nature it is well suited on crowded floors. Through combination with moves from Charleston and Lindy Hop, Balboa is transformed into Bal-Swing. Watch this video if you want to learn about Balboa's history. Here is a playlist with songs especially suitable for beginners.
Charleston
The "iconic" dance of the 1920s, the Charleston still enjoys great fame for its kick steps, crazy knees and other "wild" moves. You can dance it both solo and in pairs, it is rather well suited for fast music.
Solo Charleston is usually being thaught in choreographies but the different steps are very useful, if you don't have a partner at hand or wish to dance alone.
Slow Drag
Slow Drag is a couple dance from the early 1930s with African-American roots. We dance to slow blues and jazz music. Historically seen, this dance is considered one of the origins of all swing dances. The dance is strongly connected to the music and is danced individually very different, like the music is played in many ways. With the mostly slow music there is plenty of room for individual expression in the dance. There is a lot of call-and-response, the roles can be changed, every dance partner can take the lead. Here you will find a
playlist
of beginner-friendly songs.